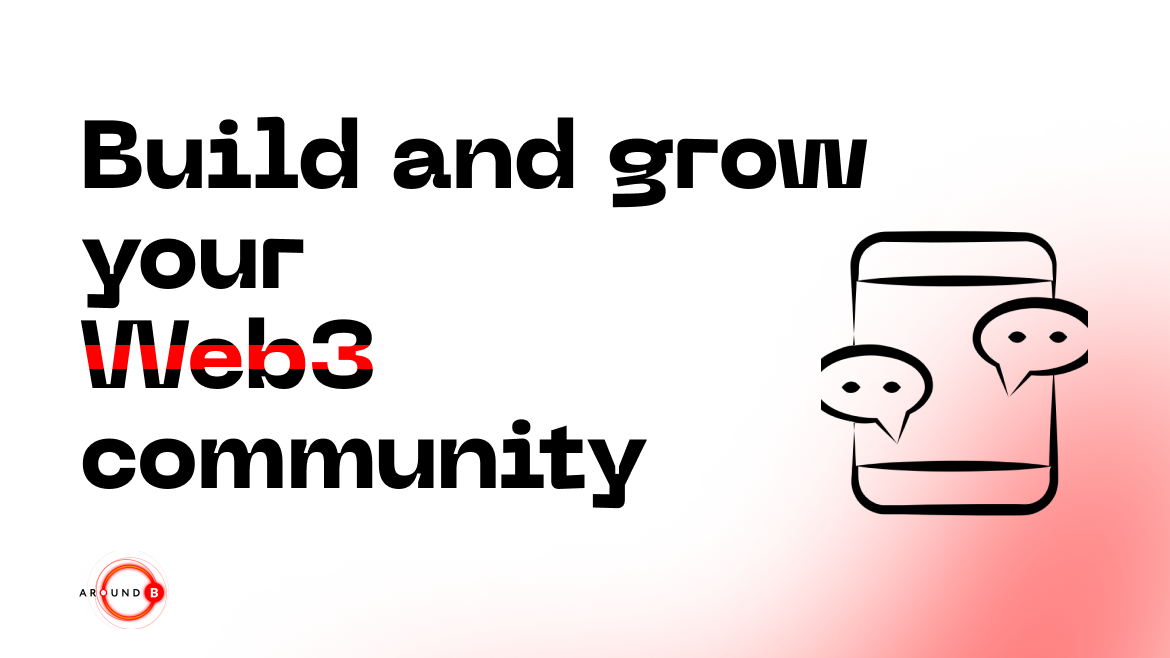 14 Sep 2022
How to Build and grow your Web3 Community
If you work in a Web3 space and are building your project you already know that Community is the King of everything happening here.
Web3 is driven by Community power.
First, let's sync on a description of what Community is.
Community – is a crowd of fans of your project, to describe it in short. These fans are your brand advocates, they fight for the success of your project, even more, they see their value, and they see their actual impact on the project.
But how do we build a strong community? And make it constantly grow.
Here are some practical tips to gather, scale and qualitatively expand your Web3 project community.
You should have a proactive professional team on top of Community Growth Management:
*Build up a sustainable community is to have community managers and a proactive leading team who take care of the community and make it an enjoyable and engaging learning experience for them. They need to incentivize members to interact with the project daily or weekly, be it for financial or educational purposes.
Know Your Community
*From Day 1 understand what kind of audience you would like to gather, and what are they interested in. Not only "Are they interested in crypto", but see what kind of values they have. Study your community deeply. Engage with them, and do research.
Focus on the major and most effective social media channels.
*Telegram, Discord, and Twitter are, unsurprisingly, the three most popular social networks among web3 communities. Nonetheless, we will mention a few more so that nothing is overlooked: Reddit, YouTube, and Instagram (fits good for SocialFi, NFT projects).
You don't have to be present in all of them at the same time; instead, focus on the ones where your target audience is and expand from there. Choosing one of them to launch your web3 community is also a viable option, but you can bet on both Discord and Telegram, as they complement each other:
How Can You Measure The "Health" And Growth of a Community? 🚀
It's up for debate, but we believe it's preferable to have a smaller but active community with a high level of engagement, rather than thousands of members with a low one.
Metrics:
Metrics are important at every stage. But also more than the metrics themselves, understanding where the members came from, why they are joining, and measuring the impact they have on the project are the extremely relevant insights to have early on.
It's also important to track the number of posts and engagements, which include comments, reactions, and determining whether or not a topic has evolved into a productive debate.
Growing the community, there is a challenge to maintain high levels of engagement. Keep an eye on the ratio of active and contributing members to total membership.
You can look for ambassadors on social media platforms like Twitter and find those who would help you as a community manager by rewarding them with exclusive content or even starting a brand ambassador program (we cover ambassador programs later in this article).
Manage your community efficiently
*Organize your channels in the right way. Make sure the rules in channels are clear to your community while maintaining a positive and light atmosphere. Moderation is necessary to ensure that debates flow as smoothly as possible while remaining relevant. It also ensures that all members feel comfortable participating on an equal footing. Answer all questions and ALL messages within a short time (5-10 mins). Make your community feel cared for.
Make a private group for your community managers team where they can discuss controversial questions and strategies on how to answer community messages. Motivate your CMs for active work and positive vibes so they can share with the community.
Bring Your Team
Make sure that as many of your team members as possible embrace your web3 community and join it and enjoy it. It is also important to bring your team to the debate in order to facilitate, moderate, and keep the community focused.
As the community grows, you may require more mods to assist you. Active members who respond to conversations proactively and have a habit of helping other members are the best candidates for a new moderator role.
This sense of collaboration is one of the most important abilities for moderators, but there are other skills required as a community manager:
Being a proactive leader;
Always being courteous to other members;
Possessing exceptional interpersonal and communication skills;
Flexible and willing to work on a part-time basis;
Being able to deal with unforeseeable community situations;
Analytic, creative, proactive, and multitasking.
Tips to manage your Web3 Community successfully:
Make sure the community is aware of all official project channels to protect them from scams and fraud and keep them informed with all official information from the project;
Establish a community policy. Rules must be clear for everyone communicating in community chat;
Keep it cool & play it nice, be kind and friendly. Keep the good vibe in chat;
Be verbal, not responsive – give elaborate answers, but also, tell information people might be interested to know even not asking;
Always ask members to send you a private message in order to elaborate more directly;
Manage the community properly: having more than one moderator is critical to the success of the community.
Do not overreact, things should never escalate from your end;
Consider developing an ambassador program and rewarding members to increase engagement.
Keep an eye on new members, after all, it's the internet – people are capable of conveying any kind of abuse.
Primary Concerns to be Aware of
Spam/fake-news
Strong language
Unrelated topics
Foreign languages
Self-promotion
Demand for updates
Personal disrespect
Information leaks
Use a brand ambassador program to grow a loyal audience
It's time to start an ambassador program to grow your loyal community and build trust for your project.
A brand ambassador is someone who will promote and advocate for your brand. Their role is to embody and defend your company's values, ethics, and identity through thick and thin.
Normally, a small percentage of your community will be deeply invested in your project and the ambassador program keeps these members engaged, while also rewarding them for their efforts and dedication.
You can reward this with different perks from the project, you can also do research in advance on what they are interested in the most.
Here is an example of how to establish an Ambassador program for your project:
You start an ambassador program, making sure that all rules and conditions for participation are clear to the community;
Community members apply to the program. You can establish roles for members to choose from. For example, content creators, translators, promoters, or others.
Select members that will join the program, from the list of applicants. This can be done in different ways, for example, by mixing data-driven and open-ended questions in your application to better understand each candidate.
You assign tasks to ambassadors and track their activity.
Reward them upon completion. You can give an extra reward to the most active ones.
There are numerous possibilities for ambassador programs, like gamification, leaderboards, referral codes, etc. Use your creativity.
Looking to Take Your Web3 Project Community to the Next Level?
Use all the tips above or ask an experienced team to help you manage the community in the best way. Contact us, and AroundB marketing team will help you on this journey.
Related articles:
Advantages of crypto winter and bear market for crypto marketing