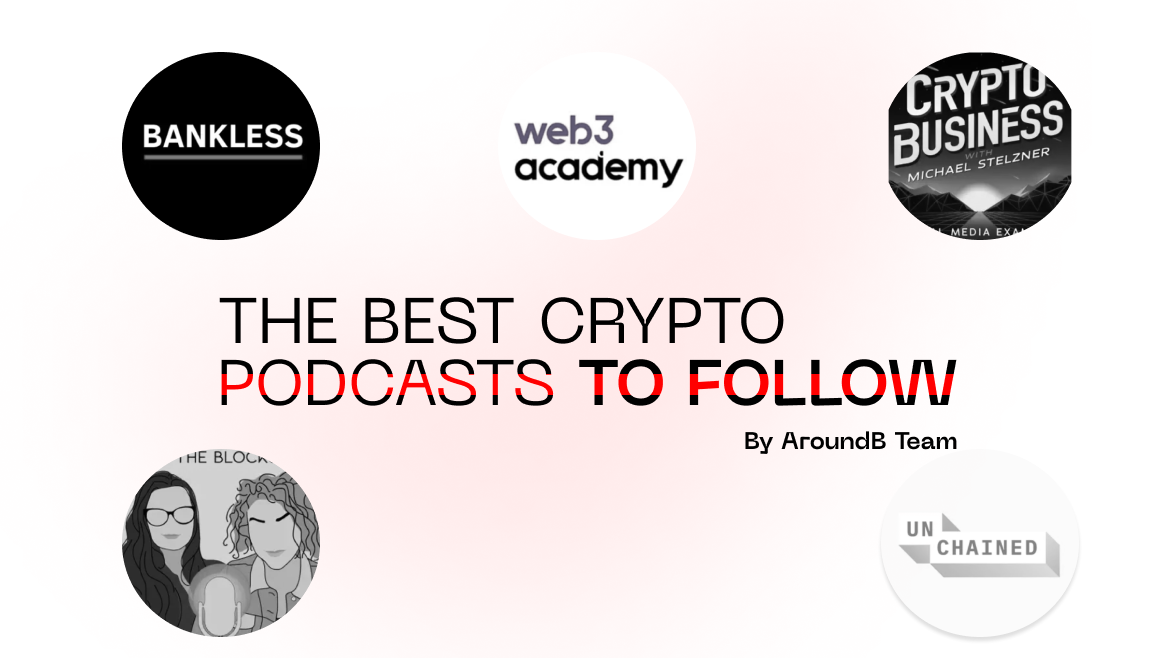 29 Sep 2022
As marketers, the AroundB team is compelled to follow the latest news and trends in the crypto industry. Keeping our finger on the pulse is what we do 😉
One medium we're particularly fond of is the podcast. It's convenient, versatile, and perfect for consuming on your morning commute or lunch break! ☝️ Hit play and you can level up your crypto knowledge while still attending to other activities. Ideal for those who love multitasking 🤩
We've explored hundreds of different channels to settle on the selection we've curated for your enjoyment. Dive into our list of the 5 best crypto podcasts now ⤵️
This podcast is all about NFTs. It's hosted by Ashley Smith and Danielle of Fame Lady Squad, a female-led NFT community project.
Have questions about what constitutes an NFT? Wanna learn how to buy and sell NFTs? Is it safe? The girls talk with industry experts to impart everything you need to confidently navigate NFTs or gain deeper insights if you are already a collector.😉
Short talks about the potential of crypto, NFTs, social tokens, and web3 for small businesses, entrepreneurs, and creators.
Interested in learning about DeFi, NFTs, the Internet of Things, web3, or cryptocurrencies? Listen to this podcast. It's got it all.
The hosts guide entrepreneurs, businesses, and creators into web3 and talk about how to use NFTs, DAOs, crypto, and the metaverse to create communities and transform traditional business models.
In this podcast, host Laura Shin, an independent journalist covering all things crypto, talks with industry pioneers about how crypto assets and blockchain will change the way we earn, spend and invest money. Tune in to find out how web3, the decentralized web, will revolutionize our world.
Enjoy delving into these shows and we wish you every success in growing your business armed with this knowledge 🤩
Oh, and your own marketing strategies should potentially include podcast activities along with strategies to diversify content and increase traffic. But that's another story we'll tell later 😉 Subscribe
Taggs:
cryptocommunity
cryptopadcast
marketing
metaverse
nft