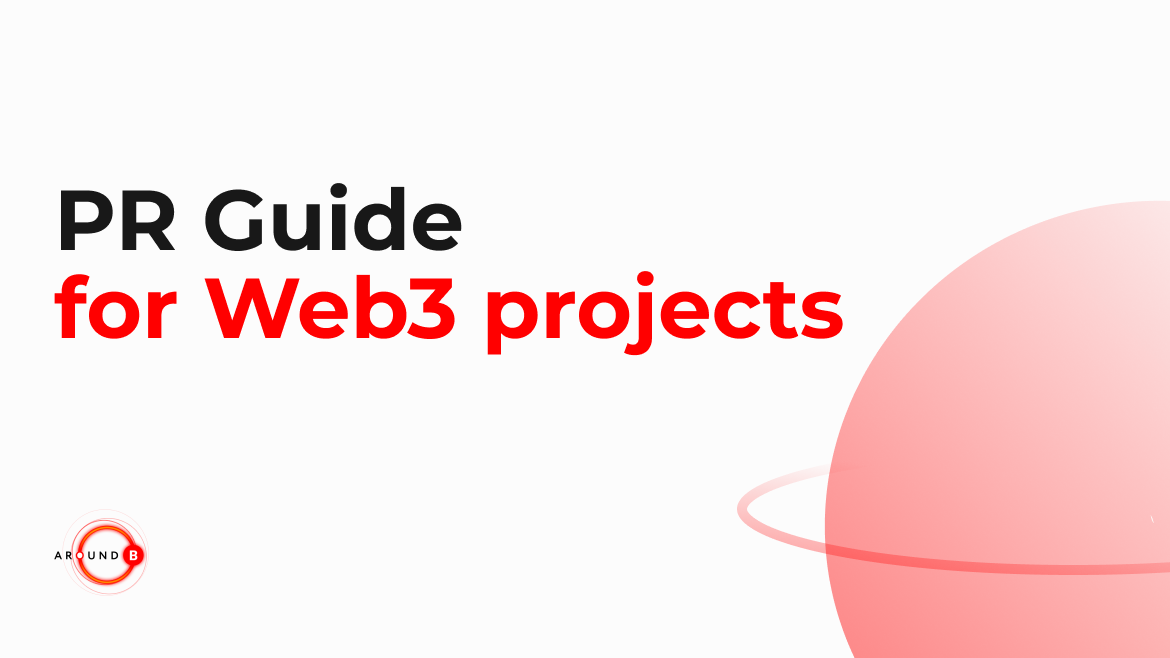 21 Nov 2022
Just recently we told you about our mono-service PR client. The general PR idea is mostly always the same – to boost the project's awareness, but each client has their individual requests and vision.
That's why we decided to gather a comprehensive guide on How to Do a PR for a Web3 Project. Come and use it yourself or just contact AroundB – we're always ready to help!
First, we should understand the basics: PR (public relations) is a tool to raise awareness using publications in different media. PR has a long-term effect, it helps to boost the appearance of your brand name on Google. PR is also one of the best ways to build reputation and trust and to highlight your product among your competitors.
Do you really need PR?
Ask yourself why you really need PR. What are your current priorities: quick lead generation or building long-term reputation and trust?
Once you set the goals and understand what focus you need to boost your marketing strategy, start creating a PR strategy plan. Once it is finished – follow it, and put all your efforts into implementing it.
Here are some points to pay attention to before building a PR strategy:
Ask yourself a question: what do you want to achieve with your PR strategy and plan?
Get to know your audience. PR communication has to be targeted at a particular type of audience. You should clearly understand who will hear about your project.
In the right place at the right time. Do some pre-research for newsworthy topics the audience is interested in.
Develop your key messages. What do you want your audience to learn about your project? What are the main narratives? What would you like to achieve while delivering this information? (engagement, set up some call to action, or just to raise some awareness).
Explore the best topics and publications that work for your niche. Don't forget to involve your SEO specialists in the process.
Research the most relevant media answering all your goals, key messages, and audience.
Now summarize all these in a comprehensive PR plan. It should include and clearly reflect the following:
-media outlets, you would like to be posted on;
-information about each media (expected coverage, links, etc.);
-topics of articles to be posted. and types of those articles (press releases, organic articles, interviews, etc.);
-timeline of publications;
-budget plan.
Write your story
The more consequential your story is, the more you're likely to get better coverage. Be creative, use a professional writer to bring your story to life, and involve SEO experts to target trends in your niche.
Choose the right media outlet for your story
This will be quite obvious, but even still, don't post articles about your DeFi project on NFT-related media. At the same time building a PR for your web3 or crypto project doesn't limit your list of media outlets. Feel free to also include a variety of global media or specific media of your niche.
For example, you are building a web3 platform for Donations through NFTs. Your PR plan may include NFT-related media outlets + media outlets that are focused on different initiatives of social impact, global business media + investor's media since social impact projects are a huge trend for investors.
Don't forget to pay attention to media statistics (use trusted tools for this), and the rates for different publication types. Compare and choose the best option for the price and expected results.
Do research on what media outlets have already featured your competitors (if you have some).
Measure the result
Web3 projects can benefit greatly from a well-executed PR campaign.
Returning to the goals for your campaign. What would you most like to achieve? More fans? More investors? More media coverage? Once you know what result you want, you can easily measure your success.
Keep track of numbers: press mentions, the amount of coverage, and the tone of the coverage. Set a notification on Google for your brand mentions. Track social media for mentions, reposts, and comments.
PR is one of the key marketing tools for any web3 project aiming for success. Just use it smartly and know how and when to use it. Using PR can help your project raise funds, awareness, and trust while building a reputation in your niche.
We hope this PR strategy checklist will help you in future media coverage results. But if you need any help on your way to do the best PR for your project, contact us – we are always ready to support your project and achieve the best possible results.
Related articles:
How to Build and grow your Web3 Community