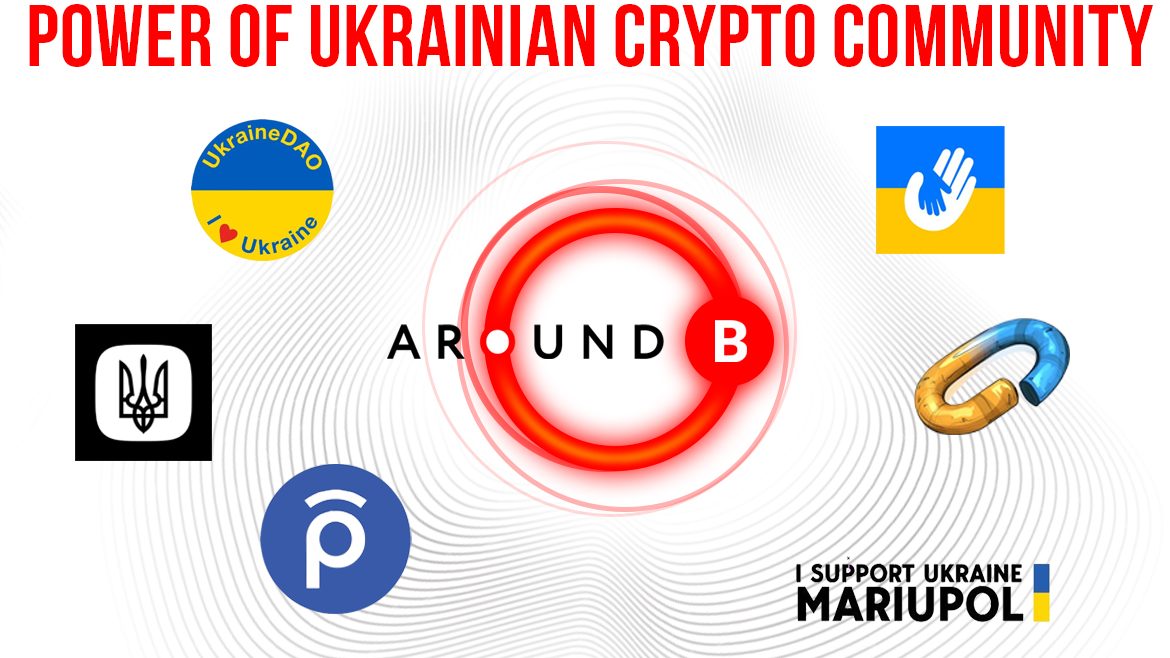 05 May 2022
One of the main responsibilities of each citizen is to support and help their motherland during difficult times. Russia's invasion of Ukraine brought the whole nation together, as well as the crypto community. Proud Ukrainian AroundB team wants to tell the world about Ukrainian crypto initiatives that have been helping Ukraine from the first day of war.
The war united everyone. The crypto community is working closely with the government, making quick decisions and saving lives even faster than we could ever imagine. Mikhailo Fedorov – Minister of Digital Transformation of Ukraine said: "Before this war, I couldn't even imagine how hard the crypto industry can work to help ZSU, literally burdening our army every day. This is the correct result of successful interaction between state institutions, businesses and people".
Even when we can't describe the pain of our people in words, the strength of Ukrainian people gives us a true belief that the freedom of our nation and the strength of our spirit are immortal. Almost all funds were created from scratch on the initiative of several people, people from the crypto community, who set priorities in their lives in favor of helping the nation in difficult times.
Please, meet Ukrainian crypto funds who support Ukraine in all possible ways:
1. Unchain Fund is a charity project created by blockchain activists. Their main goal is to break the chain of war and to help Ukraine become the country it deserves to be: peaceful and free. Unchain Fund assists in the evacuation of people and supports the civilian population with food, medicine and basic necessities. Co-founder of the Ethereum blockchain Vitalik Buterin has been supporting Ukraine by donating over $2.5 million to Unchain Fund. You can also check 10 main principles of Unchain Fund's work and make sure that together we can help more.
Raised: $9,827,902*.
2. Palianytsia Fund helps refugees and war victims by buying ambulance cars, individual aid kits and dry rations. You can help thousands of people by donating to Palianytsia – a Ukrainian charity initiative based in Lviv, Ukraine. As for now: 1 159 people found shelter, 432 children found shelter, 3 827 tons of food delivered, 84 558 boxes of medicine delivered, 58 383 portions of food cooked, 42 865 pallets of clothing brought. AroundB agency donated the whole income from the last event The Conference.Exchanges: How to DEX in Amsterdam to Palianytsia Fund too.
Raised: $1,821,033*.
3. I SUPPORT UKRAINE was made by residents of Mariupol and Ukrainian patriots to support their motherland and their hometown with the help of more than 20 volunteers who help in an evacuation, temporary shelter, food, etc. People from Mariupol are accommodated in the centers of Zaporizhzhya and Dnipro, where they can spend the night, eat and warm up. Together, people from I SUPPORT UKRAINE are helping people who protect Ukraine in a territorial defense: they organize workshops to sew camouflage gowns and hand them over to the needs of defenders.
Raised: $115 000*.
4. Ukraine DAO is a long-term worldwide decentralized effort of supporting Ukraine. Ukraine DAO is raising money to support Ukraine's army by selling NFTs of the Ukrainian flag. The biggest part of previous donations was sent to the Come Back Alive – a non-profit organisation, which helps the Ukrainian military, volunteers and their families.
Raised: $7 million*.
5. WhitePay is made by WhiteBIT team who organized fundraising for the Ukrainian army, the Ministry of Health of Ukraine, hundreds of affected civilians and other organizations to resist the aggressor's intrusion. WhitePay also shares different tips, advice and other important information for Ukrainians and all people who want to help and participate via their Instagram account.
Raised: $900 000*.
6. Aid For Ukraine is powered by Everstake, FTX and Kuna to support the humanitarian aid programs and the Armed Forces of Ukraine. With the incredible amount of more than $60 million raised, Aid for Ukraine had already bought 4,937 digital rifle scopes, 4,937 thermal imagers, 23,954 military clothing and accessories, 18 automotive vehicles, and a huge number of other life-saving and extremely important items to bring our victory closer. Vitalik Buterin – a Russian-born crypto leader (and a co-founder of Ethereum blockchain, as we all know) has also supported Ukraine through this fund with a generous donation of $2,5 million.
Raised: more than $60 million*.
There are also a lot of NFT initiatives today, which get a lot of attention from different people who want to make their contribution. It opens up a completely new understanding of NFTs, where digital art has a huge mission that affects people's lives. For example, you can also check the Metahistory Museum which has raised more than $600,000 to restore Ukrainian museums and theaters that have suffered from the shelling of the occupiers.
There are hundreds of crypto initiatives right now. We had told you only about a few of them. We would be happy to talk about every fund, every indifferent person, every volunteer who does their best every day, but this article would be just endless. Our team is proud and encouraged by the tremendous efforts made by everyone. We know so many people who have contributed time, money and all their efforts to help Ukrainian people and Ukraine itself. New initiatives appear every day and there is no limit to help. Each new day is the day we are close to the Victory. Thank you, guys, from our big Ukrainian hearts.
We will win, Ukraine will prevail, Glory To Ukraine!
*All amounts are valid by the date of publication. We know that the amount of help is getting bigger with every second.