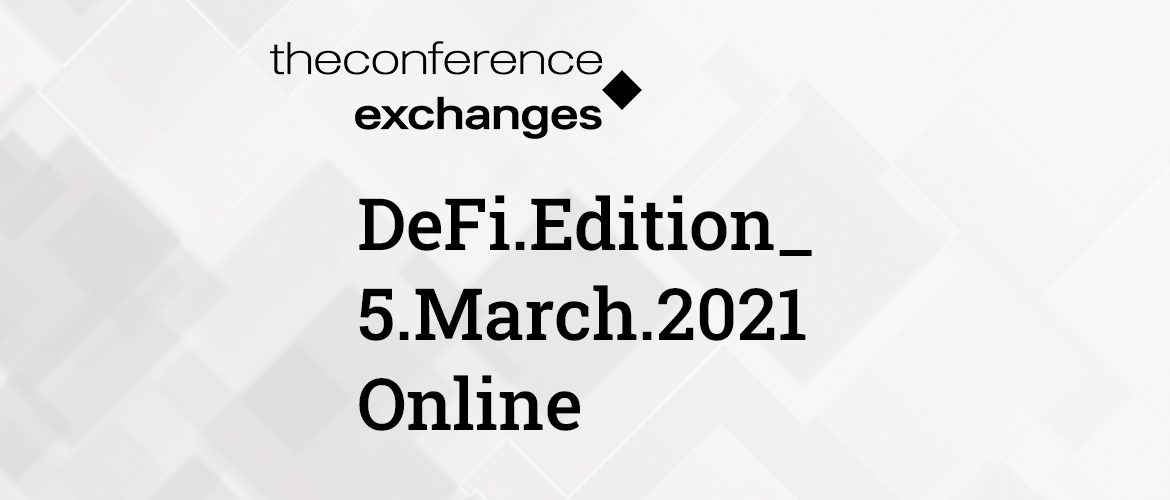 14 Jan 2021
DeFi emerged as a secure, on-budget, and open-source alternative to popular financial services like loans and money transfers. Today it's demonstrating strong growth and is stirring interest among blockchain industry leaders.
Here a just a few facts about DeFi:
✔️During 2020, the Total Value Locked increased by 200%
✔️In 2020, worldwide spending on blockchain solutions exceeded $4 billion.
✔️In January 2021, the total cryptocurrency capitalization reached $1 trillion.
Do we need to say more?
It's not too late to jump on the DeFi bandwagon. The Conference.Exchanges invites you to join the annual event for all savvy blockchain and DeFi users out there.
It's been a year since the last The Conference Exchanges event took place in Amsterdam. In 2021, organizers accept and adapt the event to a new reality and welcome you to join this exciting event online on March 5th, 2021.
You'll get a chance to:
✅ Deep dive into the DeFi field & crypto trading topics
✅ Find out about new DeFi projects & new CEX
✅ Get insights from the industry's top professionals
✅ Enjoy some quality networking
Check out the conference partners and speakers from the past event:
ABCC Exchange, OKEX, EXMO, Binance, Huobi, Shapeshift, Bitfury, Stratx, Indacoin, Amsterdam Stock Exchange, Crypto.com, Hacken, Changelly, and more.
This year, you will hear presentations about: Dex vs Cex; Yfarming; AMM; Securities Frauds; Arbitrage & Trading Strategies; Regulation & Legal Issues and more.
Meanwhile, subscribe to the conference newsletter here: https://theconference.exchange/
follow Twitter: https://twitter.com/TheconferenceE or join our Telegram community here: https://t.me/the_exchanges to keep in touch with the latest updates conference organizers will post soon.
Would you like to sponsor our event or become one of the speakers?
Get in touch with us through email: <[email protected]>