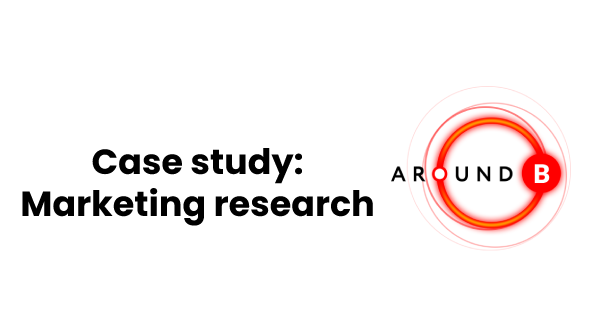 05 Apr 2021
Last month AroundB team finished marketing research for the brand new crypto exchange, which will be released in 2021. The global research included a deep dive into the crypto exchanges market, learning the audience, dividing it into segments, and determining TA avatars. The results of the research would help to write user stories, build a full journey map, and give feedback to the product team so that they could develop the best project.
Since thoroughly learning the target audience is one of the key factors of success, we decided to share our experience on how to build such research. The following research steps are the ones that allowed attaining our goals in that case:
1. Competitors & market research:
✅ Creating a competitors map;
✅ Researching competitors through categories: overview;
✅ Feedback & comments' research of competitors' audience.
2. UX research:
✅ Gathering traders (Beginners, Amateurs, full-time traders), who agreed to help us with research by sharing their experience and consumer pains;
✅ Polling more than 150 crypto exchanges users (different categories) via a tailor-made easy but comprehensive online questionnaire;
✅ Holding in-depth interviews to bring main insights and valuable feedback that would help to build a client-centric product;
✅ Conducting user-tests of the future app's prototype to confirm or refute built hypotheses, which is a necessary disaster-check.
3. Full audience research:
✅ Building segments and TA avatars;
✅ Researching TA goals, pains, and demands;
✅ Researching reviews;
✅ Building an empathy map: what the user does, thinks, talks and feels.
And here are the categories we learned about the market and top exchanges: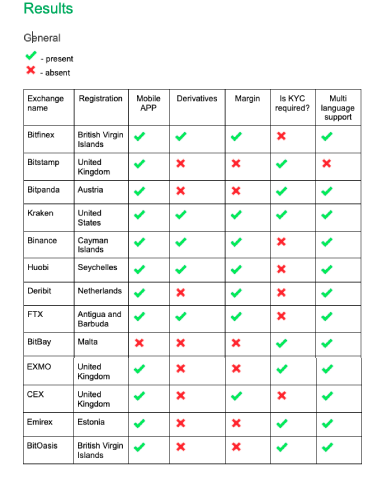 Having the research completed, we gathered all the information and the insights we needed to create a full User Story, Customer Journey Map, and specify Jobs to be done. Such research was crucial and it wouldn't be possible to build a professional long-life crypto exchange product without conducting it.
Deepening your audience understanding
Nevertheless, if you want to achieve really great results, you may want to dive into your audience even deeper. Instead of just naming users after their role (for example, "a trader"), try to create some kind of a user persona, its TA avatar.
Here are a few more tips from our own experience on how to do it:
✅ Think of the user first. It's not about developers, and not even about a Product Owner. Each Story should be valuable to some group of your end-users.
✅ Remember that your users are not only external customers. Your Stories will indeed be mostly about them. However, it's also true that you have to consider internal users such as admins, editors, etc.
✅ Feel some empathy, as you work to get through to real individuals. Give your "user" a name. Think of their mobile habits, what issue your app is going to get resolved for them and how you're going to make their life more comfortable.
✅ Remember some people who you know from real life and who fit the TA portrait. Feeling how you relate to a target group helps better understand it.
Researching an audience in the crypto sphere is a great challenge since it is way more different than in traditional marketing, where you have geographic, demographics information, etc. This sphere is decentralized at all points. This audience is FREE, located NOWHERE, and has NO age, as they all have young innovative souls. Moreover, confidentiality is the key value for such an audience, so you can't even ask about some particular contacts or demand their real names. However, at the end of the day, we finally got a really great result and a huge document with a full picture of the crypto exchanges market and its audience.
Definitely, we are proud to have completed such a big and important piece of work and share it with you. But still, it's just one way to do marketing research, and we'll be telling more about our experience in future publications. Stay tuned!