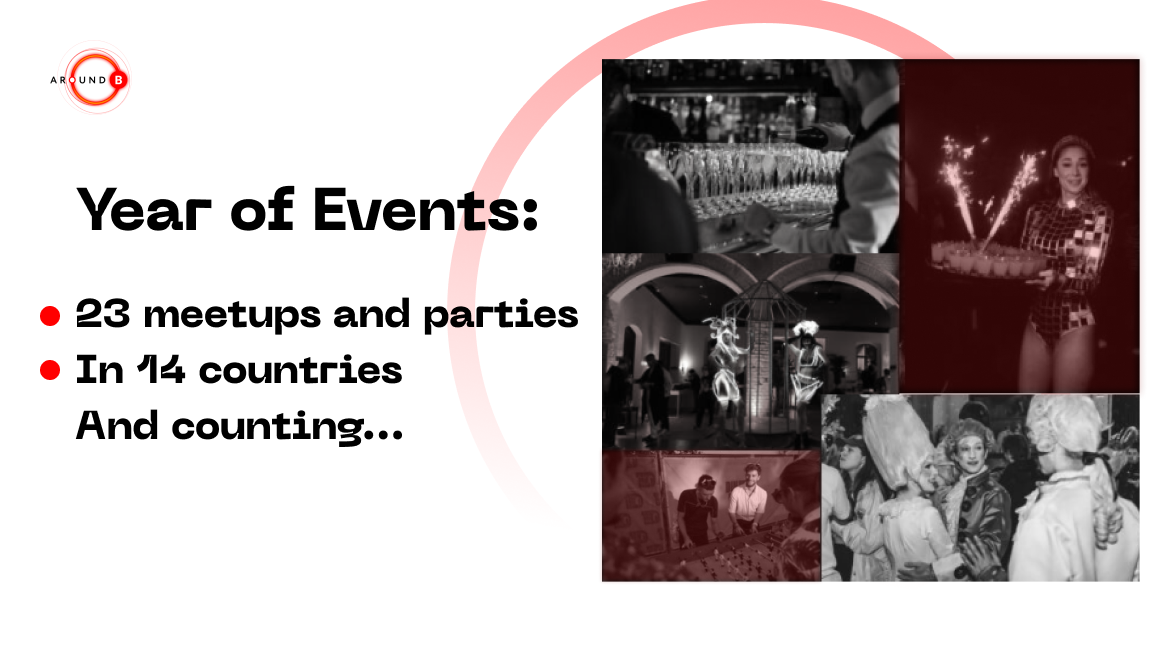 06 Oct 2023
Over a year ago, the AroundB team embarked on an exciting journey into the world of organizing unique events for 1inch. This year has been a colorful tapestry of challenges, creativity, and unforgettable moments.
Today, we're thrilled to share our notable achievements, the intriguing challenges we've faced, and how our experience can inspire and benefit other companies.
In the past year, we've put together over 23 events in 14 different countries, from Japan to Singapore, the United States, the Netherlands, the Philippines, Switzerland, and more. Each event is not just a gathering; it's a work of art. Whether it's a circus-themed soirée with fire dancers and spectacular performances, an unforgettable night with a world-renowned DJ spinning the best beats, or an exclusive rooftop get-together in the heart of New York, we've spared no effort in creating lasting memories. You can view some of this work in our portfolio.
But it's important to understand that our 1inch events serve a deeper purpose. They provide a platform for community building, discussing the latest trends in decentralized finance, and exchanging innovative ideas. Instead of overt advertising, we believe in offering memorable experiences that build customer loyalty and strong connections. Many successful brands use this subtle method to establish long-term relationships with their audience. We help businesses build strong connections with investors, traders, and blockchain enthusiasts.
The events we organized came in all shapes and sizes, from cozy, smart casual get-togethers in Davos, Switzerland, with around 100 attendees, to massive bashes in vibrant cities like Denver and Paris, where we had up to 900 people partying with us.
Handling Challenges
We've had our fair share of challenges, like facing visa issues just days before an event. The stress was real, but since we're all about being ready for anything, we had a backup plan in place. We found some fantastic managers who helped us run the event remotely for 400 people, and guess what? It turned out to be a big success!
Dealing with events in diverse countries with their unique rules and regulations has been our primary challenge. However, our adaptability has been our strength. We've learned to pivot quickly, anticipate potential issues, and find effective solutions.
Why Choose AroundB
When you collaborate with us, you gain access to a wealth of experience. We're willing to travel anywhere to create an unforgettable event for your company. Our experience across various countries equips us to handle local nuances and tackle the toughest challenges.
We take pride in our achievements and are eager to share our experiences and insights with other companies.
Considering a similar venture for your brand? We're always here to help. Let's start a conversation: [email protected]. Together, we'll explore new horizons and create something truly extraordinary.