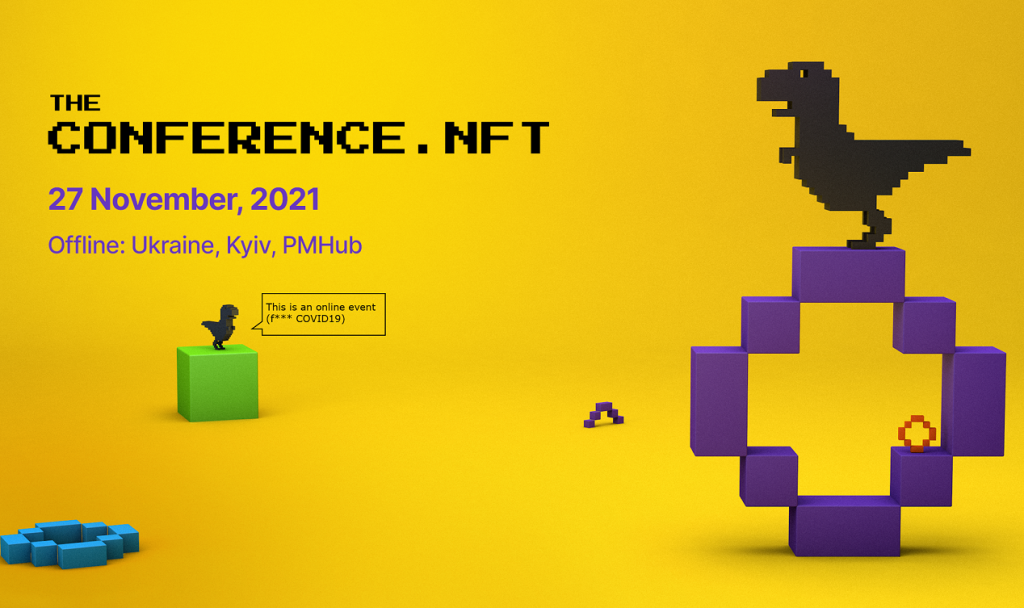 20 Oct 2021
In summer 2021, AroundB took part in a competition from Pari Match Hub where the winner received a grant to hold a unique event in the PMHub area. You can guess how we felt when we entered our first competition and won it.  AroundB is now thrilled to host the largest ever NFT event in the heart of Ukraine!
PMHub is one of the most modern and technical platforms for offline events in Ukraine. It hosts events for business and IT, the gaming and entertainment industries. It is also perfect for conferences, hackathons, business breakfasts, panel discussions, webinars and even entertaining IT stand-ups.
AroundB is excited that the offline event The Conference.NFT will unite all enthusiasts, artists, and just ordinary people, who are aware of these new technologies.
The online event The Conference.NFT, which took place in June 2021, brought together over 1500 participants from around the world. Some of the speakers you could see there were: Sasha Ivanov (Waves), Shreyansh Singh (Polygon), Zach Burks (Mintable), Miko Matsumura (Gumi Cryptos), Yan Ketelers (Arkane Network), Miguel Romero (Nifty Gateway), Guy Maevsky, Mattias Tyrberg (Meme.com), MD Rakib Ahamed (NFTmall), etc.
On November 21, 2021, The Conference.NFT Kyiv will feature artists, pop stars, developers, and NFT marketplaces to talk about what these NFTs are, why it is one of the hottest topics today, and how this non-fungible token can change the world we live in. No experience or previous knowledge is required, but don't forget a strong desire to learn something new.
The conference program includes reports from numerous industry leaders, heated panel discussions, workshops, and much, much more. Everyone should be pleasantly impressed by the virtual gallery, fantastic NFT performances, and lots of unique and unexpected surprises.
We, as organizers, strive to create an affordable event, attract young artists and explain in simple terms how digital art can open new borders and be transformed into something more than the familiar traditional art. This is where you can feel the breath of innovation, modernity, and understand that everything is real.
Because of this amazing opportunity, we are making ticket prices incredibly low. Our goal is to give everyone an opportunity to join the world of NFTs and become an active participant. Special deals are offered to students of art universities – every student will get a -50% discount to attend the event. We think this is a great chance to answer the question everyone is asking: "What the hell is an NFT?" and "What can I do with it?". Let's meet and talk about it. 
Date: 27.11.2021
Place: PMHub, Kyiv, Ukraine
Register and buy a ticket here >>>
Wanna be a speaker or sponsor our event? Drop us a line – [email protected].