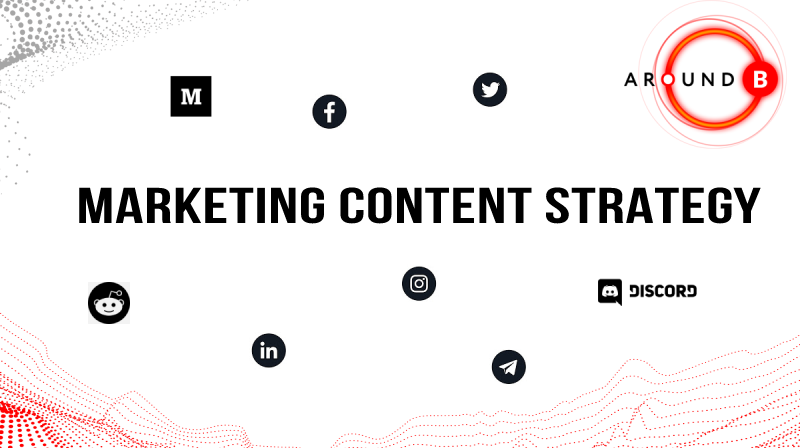 27 Apr 2021
All crypto projects are living and developing mostly with Social Media Marketing. Social networks is the major tool in marketing plans for each crypto project, start-up, DeFi, NFT project.
And Content is a King in this kingdom.
So today our blog post is about how to build a content plan, why do that, and how to make your content catchy, so it will grow your community and inspire them to support you even more.
Plan it.
Why should you plan the content: weekly, monthly, globally?
Planning out your content giving you an advantage to keep your messaging tight and be consistent,
Planning gives you time freedom. No stress when everything planned.
When you plan your content in advance you can clearly see the whole picture of how it will look when your customer comes to your pages. All your communication will be logic and easy to track.
So here we go with easy steps how to plan your content:
Step 1. Set Your Mission and Goals of your project
Without a goal, we don't know where we go. Let it be at least "grow our community as much as we can" – so your team will understand that this is the main priority and will build a strategy according to this.
Step 2. Establish KPIs for the content marketing
At AroundB we always try to system all our activities, make a clear strategy and measure all the results we get after all these activities. We also highly recommend to proceed with tradition to have team calls to track all KPIs all together each week.
Step 3. Know Your Audience – and put it first.
This is quite obvious, but still: learn your audience, try to imagine them each time you write your content. It's a live communication, there are real people on the other side, who will become your supportive community, remember that.
Step 4. Where are you now?
Research your current position and how you can improve it. All the time.
Step 5. Choose the Best Content Channels suiting your Goals
For the most crypto projects our team usually recommend to go with:
– Telegram (Community chat + Announcement channel are Must),
– Twitter (2-3 posts per day + reposts of trending tweet suiting your content),
– Medium (longreads about what is happening in your project. It seems strange if you don't have Medium or some kind of blog. Because, where you write about your idea, technology, where you explain what problem you solve. Give your audience as much information as you can..)
And not always, but still important to be there:
Reddit, Discord, and more rare Clubhouse (it seems like dying these last days..)
Step 6. Decide on Content Types.
We we start a new project, we always try to set a full check-list of what we will need to prepare: must-have Twitter posts, Content for internal Medium (Blog) articles, basic information about the project, notes we can use for quick PR and media communication, Videos, Graphics, List of influencers relevant for the project, etc, everything we may need in our content marketing work.
Step 7. Identify and Allocate Resources
Now that you know what type of content you plan to create, who will consume it, and where you're planning to share it, it's important to make sure about:
Who's in charge of producing and maintaining content?
What human, physical or digital tools and resources do you need to create the content?
What will your publishing workflow look like, including content scheduling?
Step 8. Create a Full, Clear Content Calendar: weekly, monthly.
Set a document with general strategy and send it to the whole marketing team.
Step 9. Create Content: write your posts, list hashtags, do graphics, create videos, etc.
Step 10. Post it and track it.
For a typical post, you might have to:
Create an outline and have it approved
Write the post
Create accompanying images
Send the post to the editor
Make any changes
Upload
Publish
Step 11. Measure Results.
How many new followers do you have? How do they interact with your content? Do you have comments? Do you respond to all of them? etc.
Mistakes.
The 2 common content mistakes:
Clarity
Trying to be on all platforms at once. Usually it is pretty stressful and messy. Use only those which really respond to your goals and audience.
Connection
Diving into content creation without understanding the whole picture and without a clear plan how you want your public pages look like.
Clearness
One thought – one post. Keep it logic, easy to read and consume.
Lack of planning
it's essential to use a content calendar to get all your content scheduled.
Must-have list for each crypto project content plan:
Explainer content: Posts, Guides, Infographics, Explainer videos.
You have only a few seconds to explain to your New audience Who you are, what you do and what is your mission and goal.
Prepare Graphics:
Each post must come with a picture, GIF or video.
Interactive Content: Giveaways, Memes Contest, etc..
Be creative: Try to be a trendsetter, it will bring you reposts, more attraction and fans.
We hope this short tips note will help your project to create the best content possible and will contribute to your community growth.
If it was helpful for you, you know what to do: Like and Share 🙂
Taggs:
#aroundB_agency
#content_marketing
#social_media